Amani Initiative is seeking for services of suppliers to:-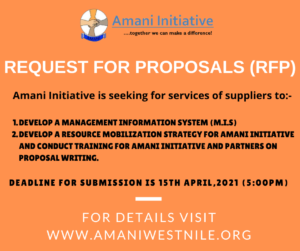 DEVELOP A MANAGEMENT INFORMATION SYSTEM (M.I.S)
DEVELOP A RESOURCE MOBILIZATION STRATEGY FOR AMANI INITIATIVE AND CONDUCT TRAINING FOR AMANI INITIATIVE AND PARTNERS ON PROPOSAL WRITING.
Please click on below to download the terms of reference:-
KEY CONTACTS
All proposals should be submitted by 15th April, 2021 at 5:00pm digitally through procurement@amaniinitiative.org together with the following:-
A technical proposal how you plan to execute the assignment. This should also include CV's of the people you will be working with to execute the assignment and ability to complete the task in the provided period.
Financial proposal for the assignment
References from at least 2 organizations preferably CSO's for whom you have done a related assignment.
Note:-
Fraud and Corruption
Amani Initiative is committed to preventing, identifying, and addressing all acts of fraud against Amani Initiative, as well as against third parties involved in Amani Initiative activities. Amani Initiative's Policy regarding fraud and corruption policy. Submission of a proposal implies that the Bidder is aware of this policy.
Suppliers, their subsidiaries, agents, intermediaries and principals must cooperate with the Head of Finance/Administration of Amani Initiative as well as with any other oversight entity authorized by the Team Leader of Amani Initiative.
Such cooperation shall include, but not be limited to, the following: access to all employees, representatives, agents and assignees of the vendor; as well as production of all documents requested, including financial records. Failure to fully cooperate with investigations will be considered sufficient grounds to allow Amani Initiative to repudiate and terminate the contract and to debar and remove the supplier from Amani Initiative's list of registered suppliers. Any fraud needs to be immediately reported to whistleblowing@amaniinitiative.org
Child protection and Safeguarding
Amani Initiative stands against any forms of violence against children and a supplier will be automatically terminated at any stage of the procurement process incase found to not to comply to our child protection and safeguarding standards.